27 Jul 2023
How Artificial Intelligence will impact and transform HR and L&D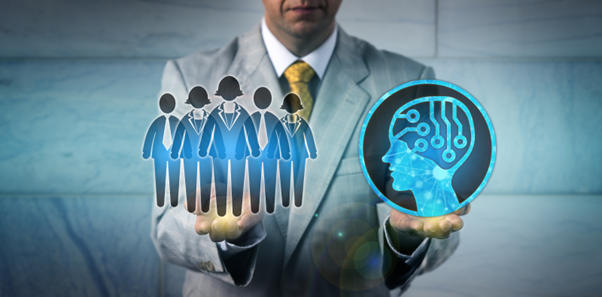 How Artificial Intelligence will impact and transform HR and L&D.
IDC's Future of Work 2022 research predicted that in 2023, 60 percent of global 2000 companies will implement AI and machine learning (ML) tools to support the entire employee life cycle experience. It is predicted that by 2024, 80 percent of these organisations will use AI/ML-enabled "managers" to hire, fire and train employees.
Despite the fears and hesitancy that surrounds the continued development of AI technologies – further hyped by the introduction and mass adoption of Chat GPT - artificial intelligence is only going to become more ubiquitous with time. The toothpaste is out of the tube and the smartest strategy for any ambitious business department is to lean into it and devise ways to use it that are innovative, productive and safe.
Defined as the leveraging of computers and machines to imitate the problem-solving, decision-making and content creation of humans, AI is proving to be a worthy investment thanks to its demonstratable powers to optimise business processes and reduce costs.
Pioneering HR and L&D departments are utilising AI in exciting new ways.
Contentiously in 2021, Amazon in the US used a computer system to automatically track and terminate contracts of hundreds of Flex drivers for failing to meet delivery quotas. The program monitored each employee to determine whether they were working efficiently and safely.
Tech company, Microsoft has also been using AI-powered recruitment tools for a number of years. This has enabled HR recruiters to reduce the time and resources required to sort through thousands of applications and increase the quality of the candidates it hires by predicting which would be most suitable for different roles.
Skincare company, Kiehl built a personalised learning platform that enables employees to receive customised training content based on their individual needs in order to elevate their knowledge of Kiehl's products and the science of skincare. AI-based recommendations meant that each learner's courses were personalised the same way each customers received skincare recommendations.
The opportunities for using AI in HR & L&D are immense.
Recruitment and hiring
AI can be used to help predict and prioritise talent requirements by collecting and analysing vacancy data. Next step, AI can assist the search for potential candidates by generating custom advertisements for various web-based job search platforms, as well as drawing on large datasets that help identify ideal candidate traits. Scoring and ranking can also be handled by AI based tracking applications. Soft skills like communication can be reviewed via virtual reality-based dialogue and recruiting systems and even technical skills can be evaluated though automated systems that simulate work environments or score coding tests.
The experienced HR professional remains best placed to make final evaluations and selections (even if they are delivered via AI generated job offer applications), but AI significantly improves the speed and quality of outcome.
Performance management
While human judgment and empathy is an imperative in performance management, AI can be used in everything from identifying productivity issues to helping generate written feedback for employees. In large workforces, AI can provide notifications around things like anomalies in productivity or policy violations. It can analyse employee data like emails, chats and work patterns to alert the HR department to potential burnout, mismanagement or workflow issues.
Employee engagement
With talent retention such a high priority, anything that can help employers understand key reasons why employees leave is valuable. AI-based tools can collect data that indicate trends of sources of dissatisfaction. Chatbots can be used to answer new hire queries, AI generated surveys can collect information regarding morale and drivers such as upskilling opportunities or how a company approaches things like diversity or sustainability.
Onboarding
AI can enhance the onboarding process by delivering induction training through chatbots, verifying employee documents and facilitating access and IDs to buildings and computers as well as training.
Learning and development
Just as Kiehl did, AI can help design training customised to each individual employee's needs. Data-based career plans can be created for employees to help enhance a company's workforce and the development and satisfaction of its people.
It's up to humans to unlock the power of AI.
When you make the decision to invest in AI-powered HR tools, you can maximise ROI by:
Actively thinking about new ways to increase efficiencies specific to your organisation's needs – utilising automated functions, data-based insights and augmented reality-based environments to improve company performance and the employee experience.

Remember that AI has its limitations and requires human assessments and interpretations along the way.

Keeping security top of mind. With greater access to data comes greater need for privacy safeguards and cybersecurity.

Remember that while AI might not replace your job, it will transform it so understanding how to harness it is essential.
Don't miss Tech Fest keynote speaker Ben Eubank, Chief Research Officer, Lighthouse Research & Advisory this November as he further illuminates the role of AI in this industry: Boom or Bust? How AI Will Impact the HR Profession.