18 Mar 2019
How to Divide and Conquer at Your Next Conference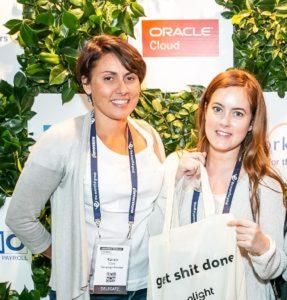 Rocking up to a conference alone can be daunting; just the thought of networking in a room full of strangers gives most of us the sweats. And then there's the decisions to be made about which concurrent sessions to attend. Having a familiar face can make all of this a little bit easier (not to mention it's often a cheaper option to bring a colleague with many events offering 2-for-1 ticket options).
After last year's HR Innovation & Tech Fest, we spoke to one of our community members, Karen Clark who is Head of Global Employee Experience at Campaign Monitor. She tells us why she chose to attend with a colleague and their divide and conquer strategy at the event.
Who did you bring to HR Innovation & Tech Fest?
I attended with our Global Head of HR, Danielle Tovell. She looks after the compliance and HR for Australia and International (excluding US) for our business. As Head of Employee Experience I work closely with her and the rest of the HR team because obviously a lot of what she does is focused on employee experience.
What was your strategy at the event – how did you divide and conquer?
We had a good look of the topics on the event app before the event to see which sessions were going to be relevant and planned it out from there. Because there were four tracks it was hard to choose but we found there were some that were more suited to Danielle's area and some to me. I think between us we managed to see most of the sessions we wanted to.
What's the benefit of bringing another person to events like these?
The obvious one is being able to cover more topics and sessions. But the biggest benefit I found was having real-time discussions – talking about what we'd just heard while it was fresh in our minds rather than a few days later when other priorities take over again. We found it was really useful to relate what we'd just heard back to our business and share ideas on how we could use it when we get back to the office. I think it really helped us come up with some clear action points for when we got back to the office.
How did you share information after the event?
After the event we created a Google folder with all out notes as well as the speakers' presentations we attended. We also created a document with key insights from each session and action points which we tagged relevant people from our HR team in. Later that week we had a group discussion to share what we'd learnt with the rest of the team.
Get in early for your 2-for-1 tickets to HR Innovation & Tech Fest 2019 here. Hurry, they're only available for the first 100 bookings only and always sell out.