29 Sep 2019
Pink Elephants: Charity Partner of HR Innovation & Tech Fest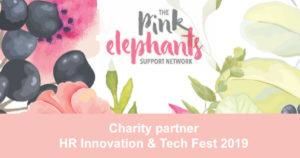 We are so excited to be the chosen charity partner for HR + L&D Innovation & Tech Fest, Australia's most exciting and progressive gathering of HR leaders, difference-makers and disruptors celebrating the talent, technology and ideas transforming the future of work. At Pink Elephants our vision is:
To be the leading and most trusted support service for those experiencing early pregnancy loss (and associated fertility challenges); revolutionising the care that they receive through championing positive change within communities, workplaces, health services and legislation; ultimately ensuring a circle of support surrounds every person who needs it.
Part of our strategy to achieve this is through exciting channel partnerships like this one that will enable us to reach and support more workplaces and their people through pregnancy loss and fertility challenges. In case you weren't aware 1 in 3 women in Australia will experience a miscarriage and 1 in 6 couples are currently struggling to conceive. The chances are that in your workplace many of your people are facing these challenges right now. As HR L&D professionals we know that workforce studies have long highlighted the benefits of supporting people through difficult times, ensuring staff feel supported and are then more engaged and productive in the workplace. An employer that prioritises and supports the emotional wellbeing of their employees will ultimately have more engaged employees with higher retention rates.
In a competitive labour market, employers need to distinguish themselves to attract, retain and motivate employees, as well as ensure that workers remain healthy. The provision of healthcare and wellness initiatives can assist organisations to position themselves as an employer of choice. Gallup 2016
Fertility in the Workplace is our program designed to help workplaces support staff when they go through pregnancy loss and associated fertility challenges. It provides appropriate training and ensures that workplaces have access to tools and support materials for their people.
Miscarriage is known to induce an intense period of emotional distress and if left unsupported can lead to heightened symptoms of anxiety and/or depression. The British Medical Journal of Psychiatry reports that 33% of couples who experience a loss are symptomatic of clinical signs of anxiety and/or depression for up to three years post a loss. We believe that with access to emotional support and validation that their loss matters we can reduce these rates.
So far The Commonwealth Bank of Australia, Minter Ellison & Tabcorp have adopted and rolled out parts of this program internally. With positive feedback on the impact.
Leave for Loss is our campaign requesting for an amendment to the existing bereavement act to be inclusive of miscarriage. Currently, leave associated with early pregnancy loss is considered sick leave. Overwhelming qualitative data from our communities highlights how couples do not resonate with sick leave when experiencing a pregnancy loss as they are bereaved parents, put simply they don't have the flu.
As the chosen charity partner for HR + L&D Innovation & Tech Fest we have a fantastic opportunity to have many meaningful conversations with leaders in practice. The impact this partnership can have will have a lasting ripple effect creating tangible social change outcomes ensuring we are one step closer to our mission.
"That no couple walks the journey of early pregnancy loss and associated fertility challenges alone"
Thank You to HR + L&D Innovation & Tech Fest for choosing us and enabling us to increase our #circleofsupport.
About the Author
Samantha Payne is Co-Founder & Managing Director of Pink Elephants, a support service for those experiencing early pregnancy loss and associated fertility challenges. Pink Elephants are the charity partner of HR Innovation & Tech Fest 2019.