15 Sep 2019
Technology Making HR More Human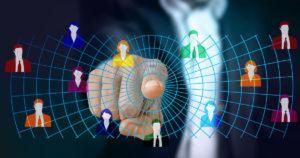 As social, collaboration and AI technologies are providing a more interactive and immersive experience in our wider lives, these technologies are innovating their way into business technology and nowhere more so than the Human Resources function.
Transacting, approving, searching for people/roles/capability sets, accessing analytics from any device are now the base line with the more innovative HCM solutions providing an integrated and consistent experience for executives, managers, teams and applicants. AI is making this experience even more intuitive, identifying most-used or next-step actions and populating HR fields to reduce time and clicks. Again, innovative HCM solutions are introducing more sophisticated AI to identify best candidates, potential leavers or identifying high performers. AI augments, rather than replaces HR or Manager judgement as this technology significant accelerates HR decision making however we must also ensure the criteria/algorithms produce the expected outcomes (especially regarding Diversity and Inclusion).
Adopting from Customer Service Excellence
One of the recent developments in HCM technology adopted from customer service excellence is integrated helpdesks and digital assistants. As seen in customer engagement, adoption of this technology, especially the ability interact via voice (think Alexia or Siri). It just feels more human to interact this way. Voice and digital channels are growing in volume, capability and sophistication with many customers readily adopting, even preferring this way to engage with your organisation.
Doesn't it makes just make sense to adopt customer service excellence into employee service?
Again HCM technology is already adopting digital assistants and utilising these as a parallel channel for your people to engage, interact and transact. Think performance feedback or recognition, captured on your mobile with Siri and appended to the person's record ready for their next check-in or performance review.
Significantly enhancing the digital service engagement reduces volumes into your HR Helpdesk and also provides a better employee experience with efficient and smart resolution of employee queries.
Again, digital assistants support and work in parallel with your HR Helpdesk channel. One recent advancement is the integration of the HR HelpDesk into your core HR application. Having access to all personal data, historical information, performance, learning and talent management to support the HR HelpDesk and the capture of queries, response and case management is really beneficial to having these separated.
Now is the Moment
As earlier blogs have pointed out, the Future of Work is now and the impacts of technology, social change and workforce demographics are already disrupting your industry, customers, business and your workforce.
The expectations of your current talent, as well as those you are looking to attract to your business already have digital expectations, technology requirements to be productive and a want a modern business environment. Business are needing responsive decision making, analytics and insights whilst creating more innovation, agility/fluid and cost efficient operating model and associated workforce. Now is the moment for HR to lead the digital transformation for the business as this is about culture, talent, change and people more than technology.
However, for many their current HR technology may impede HR teams to be strategic, responsive or even effective in the worst cases. Often, current legacy HR applications were developed to support workforce requirements of 10-15 years ago, predating the iPhone or YouTube. These solutions are now complex, customised, frustrating to utilise and do not leverage new technologies.
Now is the moment, cloud HR technology is a different way to access these new applications and innovation. Many business are migrating from their legacy applications to HCM cloud services and significantly transforming their businesses and especially their HR teams. They have moved from running their own HR systems to developing innovative HR programmes that strategically enhance their businesses, then using the HCM Cloud to deliver these through a modern and mobile digital experience.
These businesses are accessing system upgrades, innovation and customer driven improvements on a regular basis rather than waiting for large and expensive HRIS updates every 3-5 years. It's a whole new world.
Technology Making HR More Human
Enabling more intuitive, simple and human-centred engagement into HR technology we can create an experience that is less technical and more human when we are at work. The significant value of HR is the human engagement we have with the business, our managers and our people. Anything we can do to create more time for HR professionals to engage and deliver in their roles can only be beneficial for the business.
By reducing HR administration, making HR activity easier to do and having fully integrated HR like Oracle HCM Cloud, your HR and Manager capacity is increased enabling you to focus on building a culture and an organisation prepared for the Future of Work.
About the Author
Rowan Tonkin is Senior Director, HR Transformation at Oracle HCM Cloud. He is responsible for leading the Oracle HCM strategy & business across ANZ and works with HCM customers with his experience as a CHRO, CIO and Oracle HCM Cloud customer.