22 May 2019
The HR Innovation Research Report 2019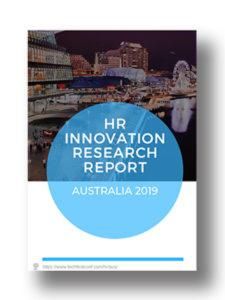 The nature of work, the workplace and the workforce are evolving rapidly, bringing increasing change to how we work, where we work and how we learn. These are presenting huge challenges as well as opportunities for HR professionals.
The Australian HR community is investing in tools and technologies, desperate for ways to transform their workforce, attract top talent, accelerate skills development, increase employee engagement and differentiate themselves as employers of choice. As the marketplace grows and opportunities increase, so does the level of complexity.
Weighing in on the State of HR Innovation in 2019
Senior HR and IT professionals have had their say about the state of HR innovation in 2019 in a recent series of roundtable discussions across Australia.
Research groups were conducted with more than 80 HR and IT professionals from over 60 organisations across Australia, sharing their stories straight from the frontline of innovation and technology integration in HR strategy. This report distils these discussions to provide detailed insights into the challenges and opportunities facing HR practitioners in using technology as a driver of organisational change.
So, how are Australian HR teams tracking when it comes to innovation?
It seems we still have a way to go with 65% of our roundtable participants saying they are "behind the curve" or "still building a case for change" when it comes to HR innovation. Getting enough time away from business as usual appears to be the biggest hurdle, with 57% of participants saying it represented the biggest challenge in driving innovation within their organisations.
Key Themes
The following eight themes emerged from the roundtable discussion groups:
Developing and executing an effective hr innovation roadmap
Employee experience is more important than ever
Winning the war on talent, recruitment, retention & successful performance goals
Quantifying hr value with data & analytics
Developing the skills to lead innovation
Change management and the successful adoption of hr technology
Navigating the vendor landscape
Globalization vs standardization: balancing global and local hr functions and policies
The themes identified in this research inform the agenda for HR Innovation & Tech Fest being held in November 2019. The event will demonstrate how HR innovation and process improvement is being enabled by technology through a combination of case studies, thought-leader presentations, discussion groups, product demos and panels.