09 Jan 2019
Free eBook: How to Sprout Your Next Big Idea for Innovation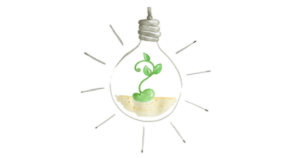 Have you noticed everyone is talking nonstop about innovation. Innovation's where the good stuff – and your future – happens. You know this.
This means that many L&D professionals are desperate for that killer idea. Surely, to kickstart innovation, all you need is ONE great idea and boom! Hello unicorn!
Sounds simple enough, right?
Not exactly. To get to your ONE killer idea, you need to be open to generating a whole heap of ideas – literally hundreds. Some will be good, some brilliant, and some will be downright average, and that's all part of the process.
And this is where many L&D professionals are stalling in their innovation attempts. Coming up with a constant stream of fresh thinking can feel like hard work. It's easier and quicker for our brain to go with BAU thinking, rather than push itself really wide.
In this eBook, Simon Banks, Author, Artist and Thought Leader, shares six out-of-the-box techniques to kickstart your innovative thinking. He'll help you generate loads of fresh ideas to help you uncover that ONE killer idea that will delight your customers (and your boss!).