19 Oct 2021
The Future of Work Start Up Clash raises the stakes for tech entrepreneurs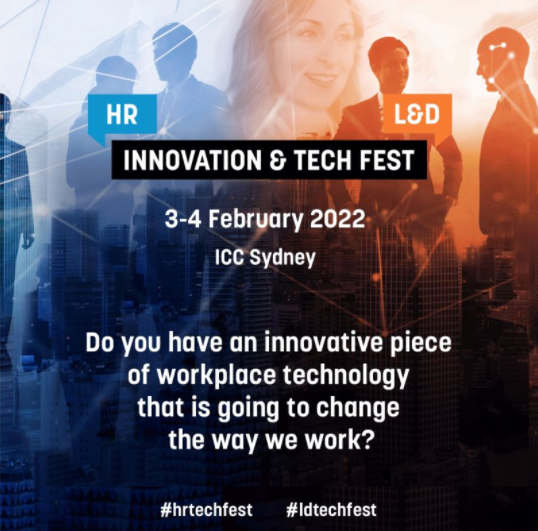 After a two-year hiatus, the Future of Work Start Up Clash will see up and coming start ups vie for the attention of the HR and L&D industry in 2022. Hosted as part of the HR + L&D Innovation and Tech Fest in Sydney - 3-4 February 2022 - the Clash is open to start ups with tech less than two years old and less than eight employees.
HowToo and ShowHow: 2019 winners share the secrets of their successes
Successful start up entrepreneurs, Lisa Vincent (HowToo) and Ben Knill (ShowHow) reveal how their technologies are transforming the work of HR and L&D teams and just how they have taken the world by storm since winning the awards in Australia and New Zealand respectively in 2019.
Tell us the origin story of your start up?
Lisa Vincent: After building the highly successful digital learning agency, Savv-e, and working with hundreds of large corporate and Government clients, we discovered a need for organisations to easily share knowledge and develop skills via online learning without a team of UX designers, learning experts or developers. HowToo was born to disrupt workplace learning across the globe.
HowToo provides a unique science-based learning intelligence platform that enables anyone with raw content to transform it into powerful and shareable e-learning experiences. HowToo has been described as "the Canva of eLearning".
Ben Knill: I imagined ShowHow when working on immersive web technologies with my marketing platform promoting tourism. In 2017 I decided to focus on immersive technologies in learning. The early iterations of the product were based on how Virtual Reality could help people learn more efficiently. 
ShowHow is the online training software with a VR component for creating immersive scenario-based experiences that feel like the real world – in particular in medical environments and hospital simulations.
Describe the Future of Work Start Up Clash entry and pitch process for you – how did you approach it?
Lisa Vincent: My previous pitches had been to potential investors, so I adapted the deck to potential customers and partners. The structure included our story, the problem, our solution with a simple animation of the software, the value proposition, key differentiators, our traction, early adopter logo customers, team and call the action. We have an awesome internal team of designers that beautified the slides and kept everything on-brand. The pitch has a strict time limit so careful planning, practising and memorising the pitch was key. Then I rehearsed it over and over (out loud and with the slides) to ensure a clean delivery with maximum impact. I wanted to make the most of such an amazing opportunity.
Ben Knill: The whole thing was quick and simple and started with a phone call to (event director) Ian Collier. When I determined I had the kind of thing they were looking for, it was easy. I went to the event in Auckland, was able to deliver my presentation and met lots of nice people. The engagement was good because people were being asked to vote and participate, which made them care a little bit more during the pitch process.
What has winning meant to you?
Lisa Vincent: Winning the Clash gave us excellent exposure to our target market and buyers, connected us to potential customers and partners that validated the problem and our solution, provided invaluable feedback which we fed into our product development process and sourced some of our earliest users. We knew we were on the right track when so many connections told us that our platform filled a big gap in the market by enabling the acceleration of skills development by democratising the learning creation process in organisations. Since the Clash we have acquired 13,000 users, won numerous Australian Federal Government grants, closed our $2.5m investment round, tripled our team, won an international Brandon Hall award, made the top 15 eLearning Industry authoring tools worldwide and launched into overseas markets.
Ben Knill: For a start, I met my business partner at the event – Daniel Allen was at Tech Fest because he had founded one of the other sponsor companies. He ended up investing in ShowHow and the company's grown very rapidly since.
I made lots of contacts and really good partnership opportunities regarding reselling the products at the event. I met a few customers but really it was a chance to meet lots of new connections in an industry where previously I hadn't known that many people. I got lots of emails afterwards and the presentation and the pitch raised my profile. Afterwards, they flew me to Sydney and that was great. Since then, we have grown enough that we were able to exhibit our own stand at the HR + L&D Innovation and Tech Fest in Auckland in 2021 Auckland.
What would you stay to anyone considering getting involved in the Clash in Feb 2022?
Lisa Vincent: Go for it! This is a unique opportunity to get in front of your target buyers and collaborators, promote and receive feedback on your offering and build relationships that could make a significant difference to your business. The event is highly professional, extremely well run and coordinated and will only do great things for your brand. We have been very grateful for the doors 'The Future of Work Start Up Clash' has opened for us.
Ben Knill: Do it. It's for a HR and learning audiences so the crowds are really easy and friendly. They want you to succeed and there's a genuine interest in people doing new things. It's a very welcoming and supportive space.
What to expect when you enter the Future of Work Start Up Clash
To enter, participants must register and submit the online entry form with details about their product service, positioning, team and target customers. The Tech Fest Advisory Committee – including potential future customers – review all entries and select the top three based on how disruptive an innovative they are.
In the final stage of the competition, the top three are then invited compete live, onstage at the Tech Fest event – in 2022 these will be 3-4 February at ICC, Sydney and 8-9 June, Cordis, Auckland. Winners are determined according to an audience vote.
Contact Ian Collier at ian.collier@hannoverfairs.com.au before the closing date of 10 December 2021 if you think your technology needs to be seen. In less than 150 words tell him why your technology should be featured at HR Innovation & Tech Fest Australia's start-up showcase.