09 Jul 2019
What Does It Mean to Move from Automation to Augmentation?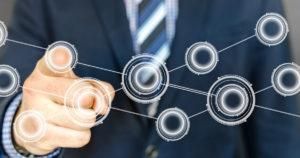 Many workplaces across many sectors are investing in digital technologies for new business generation, yet Accenture has found that "only 13 percent are leveraging their investments to realise cost saving efficiencies and new business growth".
Why is this? Most companies are not using digital technologies in combination as 'Industry X.0' / digitally transformed businesses. Efforts are too piecemeal to have the desired return on investment. It will serve us well to take a step back and reflect on the current landscape.
How we have responded to digital transformation so far? When future goal setting, how will we adopt technology to provide us with what we need for future success?
Note Kineo's recent webinar related to this topic in the shaping of future learning with poll insight taken from an engaged audience of HR leaders.
The Fourth Industrial Revolution Is Upon Us
Technologies like AI, machine learning and augmented reality are rapidly transforming how we process information, communicate and do business.
These systematic changes across society and the workplace with the likes of AI augmenting processes and skills across all industries have produced incredible results. For example neurotechnology is making unprecedented strides in how we can use and influence the brain as the last frontier of human biology. Automation is disrupting transportation and manufacturing of old. This convergence of digital and physical is upon us and set to continue.
Societal Adoption of Digitisation
Across education, the introduction of high-quality science, technology, engineering and mathematics (STEM) into the school curriculum from primary years is a vitally important addition to equip young adults with the skills needed to live and work in a globalised world.
When we consume technology as part of a balanced data intake it is useful, educational and entertaining. We can access what we want at any time and almost anywhere we please. Note though that FOMO (fear of missing out), described as the plague of the digital age, is a term relating to our weakness towards the addictive allure of social media. Whilst this is predominantly a consumer term, FOMO is similar distraction prevalent in business.
What Positives Can be Taken from Digitisation in the Workplace?
It is an increasingly complex space for HR within the realms of recruitment. We predict that a multi-tier recruitment model is on the horizon. Technology is creating a range of different employment scenarios. For instance, there are knowledgeable workers who really select their employer, rather than their employer selecting them. These employees demand culture, work-life balance and flexibility. There are labour markets where contracts are increasingly casual and under-employment is problematic. Finally, the gig economy has a mix of the two with under-payment and non-regulated labour contracts is rife.
Leaders of HR, responsible for the professional development of their workers, can glean detailed data insight from learning management tools. This insight can be interpreted to inform us of skills gaps and future learning needs across the business. Understanding how to read data to identify strengths, weaknesses and trends can strongly contribute to higher levels of efficiency in the business and this will ultimately have a direct impact on the bottom line. This will also enable the personalisation of a learning journey for the individual based on aspirational professional development goals. This can only result in heightened levels of empowerment, work fulfilment and company loyalty.
Data Analysis Informing Our Future Learning Needs
In the process of driving behavioural change in the workplace, HR should look at a holistic and hjghly-personalised approach to learning. We demand more from our learning design, we want more variety and interaction to be mentally stimulated. The use of storytelling (what we will always do better than the machines), online polling, interactive websites and animations should be incorporated as part of a learning strategy. It is now time for organisations to make use of these technologies.
The L&D Innovation Research Report 2019 states of HR leaders "Empowering employees through inclusive performance processes and platforms and offering real-time engagement evaluations is helping organisations to win the war for talent".
What Predictions Are There for Future Data Driven Tools?
According to Gartner, Inc there will be significant disruptive potential over the next three to five years. Augmented analytics (an approach that automates insights using machine learning and natural-language generation), continuous intelligence and explainable artificial intelligence (AI) are among the top trends in data and analytics technology.
These trends should be examined in accordance with potential business impact and business and operations models adjusted accordingly, or risk losing competitive advantage to those who have already adopted a data driven approach.
Gartner, Inc adds "The continued survival of any business will depend upon an agile, data-centric architecture that responds to the constant rate of change."
Kineo will be at L&D Innovation & Tech Fest, 18-19 November in Sydney. We'd like to learn more about your learning technology experiences. Come and see us. Or learn more about the digital shift experiences of leaders in organisational learning by downloading our Learning Insights 2019.
About the Author
Sally Danbury is Nurture Marketing Specialist at Kineo APAC. Since the year immemorial Sally has exercised an avid passion for creativity with words, images and Pilates. She is most content in the workplace when crafting enticing messages that inspire and engage.