15 Feb 2021
5 sentences you won't hear from HR and L&D leaders in 2021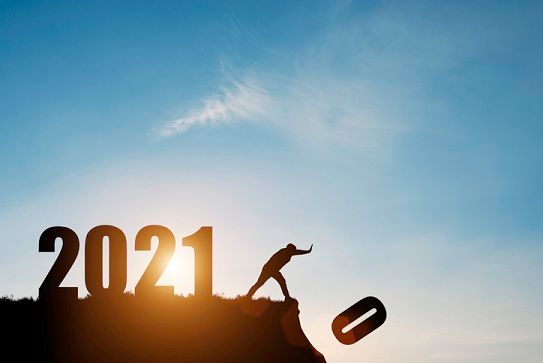 Determined as we are to wipe the slate clean after a tumultuous 2020, the truth is our biggest opportunities are in riding its momentum.
Throughout the pandemic, it became apparent what a critical role HR teams play in times of change. There was recognition across the board of the great work undertaken under pressure to get the best out of employees for the benefit of the organisation and vice versa.
Despite the positives, for most, 2020 is a time we yearn to leave behind. As the clock struck 2021, many of us vowed to never again use the words 'unprecedented' or 'pivot' or 'agile' or 'tiger king'.
But like it or not, these over-used terms are just as relevant today as they were a year ago. They represent lessons learned and keys to future stability and success and they will remain in the vernacular for some time to come.
That said, there are exceptions.
Here are the words you will not hear HR and L&D leaders say in 2021:
"New skills call for new people."
One of the most pertinent workplace challenges in 2021 is identifying and anticipating skills gaps and getting strategic about filling them from within.
The World Economic Forum's 'Future of Jobs Report', released in October 2020, predicted that 50% of all employees will need reskilling by 2025 as adoption of technology increases.
Talent mobility is more relevant than ever, and the onus is on companies that want to retain valued and loyal employees to re-evaluate their skills and where need be, retrain and redeploy them across the business.
A dynamic skills approach will become more common; anticipation of skill shifts as they occur prompting proactive rather than reactive adaptation. This may involve cross organisational stakeholder networks that can identify these shifts, as well as transparency between employers sharing the skills they need (and don't need) and employees being candid about their skills and interests.
"Our employee experience strategy hasn't changed since COVID."
The employee experience is now inextricably linked with technology, with the hybrid workplace adding an entirely new dimension to an employee's relationship with the company.
Everything from interviews to onboarding, team-based connection and collaboration, talent development, well-being and work-life balance will be digitised – or at least have the capacity to be delivered online as a contingency.
While 2020 was all about empowering employees to function remotely, in 2021 policies will tackle a hybrid scenario. The success of WFH practices may have given some a taste for a new, preferred working environment, but the reality of remote working for others was a temporary displacement to be endured. In both scenarios, employees expect workplace experiences that are meaningful, personal, and enhanced by digital innovation.
"When it comes to e-learning, we're here for a long time not a good time."
Changing times call for agile learning capabilities. But, if 2020 taught L&D professionals anything, it is that online learning is a complex proposition.
Microlearning, in shorter sessions, has emerged as e-learning best practice. As L&D leaders find new ways to deliver it on demand, virtually and on multiple platforms, ongoing 'in the flow of work' learning will become standard practice.
Access to regularly updated learning materials will be a challenge necessitating new strategies, technologies and platforms for the collation, storage, delivery, and collaboration of content.
"We leave cultural politics at the door."
Diversity, Equality and Inclusiveness are no longer 'nice to haves', and employees and customers want to see more than platitudes on a website. Beyond DEI internally, professionals across all industries and age groups want to give back to wider communities, causes and the planet.
Says Josh Bersin in his HR Predictions for 2021 report, "We should think about our companies as societies within larger societies. People have to be good citizens within your company – taking care of each other, protecting company assets, acting in an ethical way -- and also good citizens in the communities you serve."
On a practical level for HR this will mean facilitating forums and listening to employees, experience initiatives, training, review of policies surrounding things like recruitment, code of conduct, and leadership succession.
"We're already getting everything we can from our data."
The need for HR and L&D to leverage data analytics more has long been on the menu but never fully realised. The acceleration of digitalisation in the now of work is generating more data and more ways to access it intelligently. Look out for more apps that integrate silos of company data and enable more informed business decisions.
Data analytics underpins the entire future of human resources and presents an opportunity to enhance everything from skill development, learning content, employee experiences, corporate citizenship and more.
HR + L&D Innovation & Tech Fest New Zealand is back on 8-9 June, 2021 – playing a part in empowering our communities to learn and engage with the trends, technologies and debates that will define the future of work.
More info at www.techfestconf.com/hr-nz