20 Jun 2022
HR + L&D NZ TECH FEST 2022 TAKE AWAYS: Look after the humans!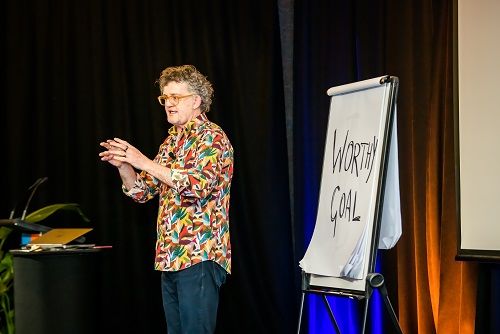 The undeniable message of this event was we need to look after people (and that includes ourselves).
Thank you to 300 delegates, 60+ speakers over 4 streams, and 25 sponsors and partners for making HR + L&D Innovation & Tech Fest 2022 such a terrific time.
Looking back on the feedback we received, some of the most talked about topics of the days included wellbeing, the great resignation, and all things digital that help make our work lives easier. There was also an overwhelmingly positive sentiment regarding reconnecting with the community in person again.
Top Takeaways
Nish Pai, Head of Learning Experience at Mitre 10 (New Zealand) Limited
"A presentation that gave me so much joy for two reasons - One, Kelly Hopkins is such a natural speaker and Two, he shared some of the most practical tips on how to embed blended tools in a retail business. Kelly, just a heads up- Hannah Fossum Ellis Gibson Fiona Hall and I will be chasing you for a coffee catch up sometime soon. We need a cross-company retail learning circle!"
Ryan The Lion Ashton, Founder & Chief Yarner, AFQY (and chair-extraordinaire)
"#MelissaVERSE formerly known as Melissa Crawford spoke about the Nerdy Nine Techs for non-nerds of P&C and L&D and the #HRtechFEST #LDtechFEST

Melissaverse spoke at length around #DigitalTwins and the desired used for creating one of the work building and enabling remote workers to come to work using #AugmentedReality as the next evolution from video calls.

And that was one of Melissaverse's key examples helping the non-nerdy understand that they are already using all of these 9 techs and not to feel cautious, but to embrace them..."
Tony Maguire, Regional Director, ANZ at D2L
Great session today at #LDTechFest - thanks Loretta Roberts from to the #immunisationadvisorycentre and Yvonne Lim from #learningcircle in UniServices at Uni Auckland. Two legends, sharing the practical impacts of rapid responses to post covid learning on community health and language learning across NZ. Extraordinary growth, programme creativity and learning design!
Kylie Telford, Director Human Resources Consulting, Director Human Resources Consulting, Zale Consulting
"WOW - the HR + L&D Innovation & Tech Fest did not disappoint! First and foremost it was unbelievably lovely to experience it in person! So great to catch up with so many amazing and familiar faces #IRL!

Absolutely loved Michael Bungay Stanier and his opening session on #worthygoals ... everybody wants to do work that matters, has impact. His mini workshop on worthy goals and how to create them for yourself and others was hugely valuable!

I also really resonated with Alexander Kjerulf, Chief Happiness Officer and his session on building a happiness strategy in your workplace...his easy to follow steps meant that even small businesses with next to no budget could be prioritising #happiness in their organisations.

There were more panel sessions this year which is an awesome way to get bite sized ideas/experiences/learnings from multiple sources. The Intersection of Technology and Culture gave a lot of great insights, and Hybrid Cultures by Design was fascinating, particularly as most of the panel were from #remotefirst #startups. The Great Resignation focused on the need for #EX strategies within businesses, and the fight to attract and retain great #talent.

I was excited to see such a focus on #Wellness in the organisations at the conference...both through the speakers and in the exhibitionists. And collaboration came up a lot, great to see people working together to solve familiar issues both in the same and across different industries.

Fabulous couple of days overall! If you didn't make it - put it on your radar now for 2023...you'll know it's coming because the clever crew Hannover Fairs Australia run workshops beforehand to find out what our pain points are and who we really want to hear from = AMAZING!!!"
A huge THANK YOU to our 2022 Speakers... you were awesome!
A huge THANK YOU to our 2022 Industry Titans!
A huge THANK YOU to our Advisory Team
Announcing the 2023 dates
As we look to the future, we are pleased to announce that HR + L&D Innovation & Tech Fest 2023 has been confirmed for 7-8 June at Cordis, Auckland. We can't wait to see you there!